Apple Developing Hybrid Laser Projection Displays
On March 31, 2011 the USPTO published patent application Display System Having Coherent and Incoherent Light Sources.  The inventor describes some of the issues with existing projection systems using coherent light sources (i.e. laser) as the following:
assigned to Apple, Inc titled,
[0004] Electronic devices are ubiquitous in society and can be found in everything from wristwatches to computers. Many of these electronic devices include the ability to display images to the user of the electronic device, such as by projecting the displayed images through a lens onto a screen or backdrop. Conventional projectors include so called "laser projectors," which render images using coherent laser light as opposed to projectors using incoherent incandescent light sources. While the laser display systems may offer greater resolution than non-laser based display systems, they often consume greater amounts of power. Because of their greater power consumption requirements, laser based display systems also may include complicated cooling circuitry and thus result in more bulky projection equipment.

[0005] Another issue with laser display systems versus non-laser based display systems is the so called "speckle" problem. "Speckling" refers to an interference in the intensity of highly coherent light, such as laser light, which may result from the laser striking a rough surface. The overall effect of speckle in laser display systems is that the image may appear grainy. Furthermore, laser light sources are often more costly than other non-laser light sources, making laser based display systems more expensive. Accordingly, display systems that embrace the desirable features of laser light sources while overcoming the undesirable features of non-laser light sources may be useful.
As a means for addressing these issues, Apple has developed methods for combining coherent and incoherent (e.g. LED) light sources.  They describe the advances as such:
[0006] Embodiments are disclosed that allow light display systems, such as projectors, to have lower power consumption, reduced speckling, and/or that are less expensive than conventional light projectors. In some embodiments, an incoherent light source may be optically coupled to a coherent light source to produce a combined coherent and incoherent beam of light for projecting images. In general, incoherent light sources, such as light emitting diodes (LEDs) or incandescent bulbs, emanate light waves across a broad spectrum (e.g., multiple wavelengths of light), whereas coherent light sources, such as lasers, are more precise and emanate light waves of a single wavelength. By combining light from the incoherent light source with the light from the coherent light source, the overall power level of the coherent light source in the combined light beam may be reduced while still perceiving a crisp, clear image. As a result of the lower power levels for the coherent light sources, the size and complexity of light projection systems may be reduced.

[0007] Some embodiments may take the form of a system for displaying images, wherein the system includes an incoherent light source and a coherent light source operating in concert with the incoherent light source to produce a combined beam of light, where the combined light beam includes similar wavelength contributions from the incoherent and coherent light sources. The term "operation in concert" as used herein is intended to refer to the coherent and incoherent light sources emanating at least one wavelength that is substantially the same at substantially the same time.

[0008] Other embodiments may take the form of a method of calibrating an image display system, wherein the method includes the operations of providing an image to one or more display circuits, setting a first intensity level for an incoherent light source, determining if an intensity of the projected image equals a desired intensity level, and, in the event that the intensity of the projected image does not equal the desired intensity, setting a second intensity level for a coherent light source.

[0009] Still another embodiment may be a method of projecting an image, wherein the method includes separating an image into first and second components, projecting the first component using an incoherent light source, and projecting the second component using a coherent light source, wherein the incoherent and the coherent sources concurrently generate similar wavelengths to render the image.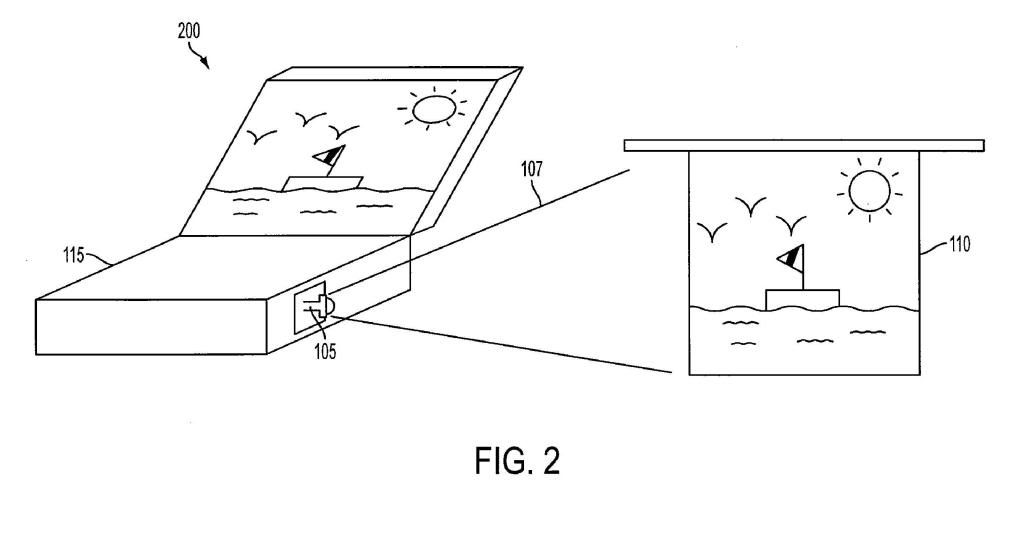 Apple is taking an interesting approach toward improving the display performance of laser-based projection displays.  The combination of less-coherent light sources with laser-based light sources can improve speckle performance, while reducing overall power consumption.  Applications for this include traditional large-format projection, embedded projection, as well as for rear projection applications (such as televisions).  Apple does not discuss any preferred method for generating the individual pixels of the image.  Therefore, it appears that the patent application is broad enough to cover DLP, LCoS, or scanned mirror displays.
This is exciting news for projector-philes.  We've heard speculation of Apple products with embedded projection capability in recent months.  Could this be the beginning of additional filings for projector-enable iPod, iPad, and iPhone devices?  We'll be sure to keep our eye on this.  Meanwhile, check out the full patent application below.